EL3MPIR50
From ZoneMinder Wiki
Jump to navigation
Jump to search
Otherwise known as IPOB-EL3MPIR50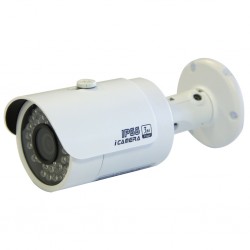 I got this camera to work well with ZoneMinder 1.25.0, using the camera's video format
set to H.264, 720p, and fps of 8.
I'm guessing mileage may vary with higher resolution and fps settings.
I used the "Ffmpeg" mode in ZoneMinder, after figuring out that I could get ffmpeg
to stream from the camera's rtsp interface. To verify this, I ran this command
in a shell:
ffmpeg -i "rtsp://youruser:yourpassword@<cameraipaddr>/cam/realmonitor?channel=1&subtype=0" -r 8 out.mp4
If this works, then ZoneMinder seems to be able to use its "Ffmpeg" mode, with
the URL in its "Source path" setting.
I ran into a shortage of SHM, which resulted in an error in the ZoneMinder log,
to the effect of "unexpected memory map file size". The solution to this was
to increase the SHM max at the OS level. I use slackware, so this involved
a command:
echo "536870912" > /proc/sys/kernel/shmmax
... and to make it persistent across reboot, create an /etc/sysctl.conf file
and add this line to it:
kernel.shmmax = "536870912"
Product Information
This 3 Megapixel Indoor/Outdoor Bullet Camera is your answer to TRUE HD recording. The detail of this ONVIF PTZ amazing! Gone are the days of pixelated analog recordings. Now, with this 3MP Weatherproof Security Camera, you can be confident if you ever have to turn your video surveillance over to the authorities. If you need to see a tattoo or shirt emblem, for example, you will have a better chance with this megapixel camera than most others.
This HD Bullet Camera is equipped with a 1/3 inch CMOS image sensor and a 3.6mm fixed lens and supports motion detect. At night, the built-in IR (Infrared) can see up to 50 feet. Day or night, the IPOB-EL3MPIR50 will deliver HD.
You can power this bullet camera via PoE (Power over Ethernet) or by 12VDC.
Product Specifications IPOB-EL3MPIR50
Features:
Sensor Type 1/3" 3 TI Davinci high performance DSP
Digital Signal Processor TiDavinci
Effective Pixels 1920 (H)×1080(V)
Image Resolution 3MP (2048x1536) / 1080p(1920x1080) / 720P(1280×720) / D1(704×576/704×480
Encoding Speed Main stream(2048*1536@20fps) extra stream(704*480@20fps)
Bit Rate H.264: 16Kbps-8192Kbps. MJPEG is adju and bit adj.
Snap Shot Max 1f/s snapshot. File extension name is JPEG.
Scanning System 2:1 Interlace
Electronic Shutter Auto/Manual,1/3~1/10,000
Lens Mount M12
Minimum Illumination 0.1 Lux F/1.2 (Color) 0.05LUX/F1.2 (B&W) 0LUX (IR ON)
Signal Noise Ratio >50dB
Hi-res 3-Megapixels, Weather-Proof, Web Interface,
IP66, ONVIF Cylinder IP Camera
• 3MP Indoor/Outdoor Vandal Network IP Cylinder Camera
• High Performance Texas Instruments DaVinci Series DSP
• H.264 And Dual-Stream Encoding
• 30FPS@1080P
• 3.6mm Fixed Lens
• ICR Filter, Auto Iris
• IP66
• 12VDC/PoE
• Built in Web Server, NVR, G4SS (SmartPhone) & PSS
• ONVIF

Product Specifications IPOB-EL3MPIR50
White Balance Auto/Manual
Day/Night ICR
Auto Iris H.264/JPEG/MJPEG
Lens 3.6mm Fixed
Video Compression H.264/JPEG/MJPEG
Analog Video Output 1.0Vp-p Composite Video, 75 Ohms
Audio RCA Mic in, RCA Speaker Out
Audio Compression G.711a / G.711u / PCM
Ethernet RJ-45 (10/100 Base-T)
Network RJ-45 10M/100M UTP
Network Functions HTTP, TCP/IP, ICMP, RTSP, RTP, UDP, SMTP, NTP,DHCP, DNS, IP Filter, PPPOE, DDNS, FTP, Alarm Server
Remote Operations Monitor, Playback, System setting, File download, Log information, Maintenance & Upgrade
Power Requirements DC12V, POE
Power Consumption <4W
Operating Temperature -10°C – 60°C
Operating Humidity 90% RH Max
Ingress Protection IP66, 4000V Thunder, Surge & Wave Protection
Dimensions 64.43mm x 145.02mm
Weight 0.9 lbs approx.
Shipping Weight 1.05 lbs approx.

Megapixels: 3MP
Image Sensor: 1/3" 3 TI Davinci high performance DSP
Lens: 3.6mm Fixed
Minimum Illumination: 0 Lux F/1.2 (Color) 0.05LUX/F1.2 (B&W) 0LUX (IR ON)
LEDs: 18 LEDs
IR Distance: 50 Feet
Image Resolution: 3MP (2048x1536) / 1080p(1920x1080) / 720P(1280×720)
Communication Protocol: ONVIF
Operating Temperature: +14°F to +140°F - RH 90% Max
Dimension: 2.5 in x 5.5 in
Power: DC12V, PoE