LinkDelight CCTV H.264 4CH DVR Card
From ZoneMinder Wiki
Jump to navigation
Jump to search
CCTV H.264 4CH DVR Card Real-time 100/120FPS Audio/video Capture Security Card (SKU: ESC09)
As found on eBay: [[1]] Cost: around 22 $US
Features
This HD Digital Video Recording Card is installed to your computer host and the coming adapter cable connected with camera, to achieved host working as DVR and watch the camera image in LCD display. This DVR card is 4 channels, so it support 4pcs cameras and you can see 4 camera images in LCD display simultaneously.
Video compression adopts advanced H.264
Support widescreen display, including 1024*768 and above
4CH video 4CH audio, coming with 4ch video/audio connection cable
Support smart mobile phone view, Windows mobile, Symbian mobile, IPhone
Support Windows 2000 /2003 / XP / Vista / Windows 7 OS
Support 4 split-screens playback and convenient to search recording files
Support net remote preview, playback, record, PTZ control
Support manual record, timer record and motion detection record
PTZ: support multi-protocol, RS232/485, highspeed dome control software
Support motion detection alarm & video lost alarm
Security: multi-lever password, user right option, system keyboard lock

Kindly Note: This cable isn't compatible with the system of Window7 64bit
Features
Model

4004

Video

Format

NTSC / PAL

Compression

H . 264

Input

4CH BNC

Output

VGA

Audio

4CH AV

Support OS

Windows 2000 /2003 / XP / Vista / Windows 7

Display

Frame rate

NTSC:120fps, PAL: 100fps

Resolution

352×288 320×288 704×576

Split screen

1 、 4 、 cycle

Record

Frame rate

NTSC:120fps, PAL: 100fps

Resolution

352×288 320×288 704×576

Recording Mode

Manual, Time, Motion Detection

Mode

1/8—8 times speed playback optional

Net Function

Transmission mode

LAN / PSTN / ISDN / ADSL

Transmission protocol

UDP/TCP

Connection Mode

Clients software/ IE Browse/Smart phone client software

Main functions

Remote preview 、 Video playback 、 Remote control

Alert

type

Motion detection, Video loss

Linkage

Channel record 、 Sound alerts

Others

PTZ

Support multi-protocol,RS232/485,highspeed dome control software

Back up

USB 、 Network 、 CD-RW 、 DVD-RW

security

Multi-lever password, user right option, system keyboard lock

Net Weight

52g
ZoneMinder
I was able to make this card under Ubuntu 12.04 server with a minimal amount of fuss. The Card is based on a Techwell 6800 Chipset, and I was able to find the appropriate Linux Drivers at this site:

Drivers: [Drivers]

Installation:
mkdir techwell
cd techwell/
git clone git://gitorious.org/tw68/tw68-v2.git
tw68-v2/
make
sudo make install
sudo modprobe tw68
lsmod|grep tw
dmesg

I'm sorry I haven't kept a copy of the whole session. After compiling and "loading" the tw68 modules, you need to check that the modules are actually loaded (lsmod|grep tw). You should have the following output:
~$ lsmod |grep tw
tw68                   44633  2 
videodev               86588  3 tw68
videobuf_dma_sg        18786  1 tw68
videobuf_core          25409  2 tw68,videobuf_dma_sg
btcx_risc              13400  1 tw68

Issuing the dmesg command, you should see 4 "video devices" found, labeled from /dev/video0 to /dev/video3... Each video device is tied to an input from the card.
I haven't bothered yet with the "audio" part of it, so I can't tell you if that works or not. If you're able to test it, please update this wiki page to let others know...
Although I do get a lot of messages in dmesg, concerning "[261734.936103] tw6810[0]/0: [c5c8bb40/1] timeout - dma=0x05f8a000", the capture does work well.
[10/26/2012] I found that if you're using two cards you can end up with some really nasty artifacts that manifest themselves as white horizontal lines on the feeds, after doing some calculations finding myself close to saturating PCI bus, I found these instructions on the phillips page:
Do not forget to to increase "shared memory" at the end of /etc/sysctl.conf with
kernel.shmall = 134217728
kernel.shmmax = 134217728

cause your card supports 640x480 pixel with 24 bit depth and thats more than 112Mbyte ;-)

doing this allows me to run 8 cams @ 12fps full 640x480 without artifacts
Zoneminder configuration
The following screenshots show how I configured the device in my zoneminder: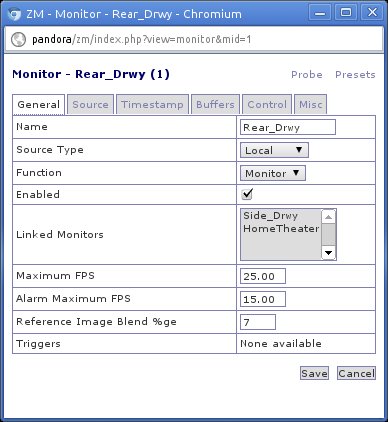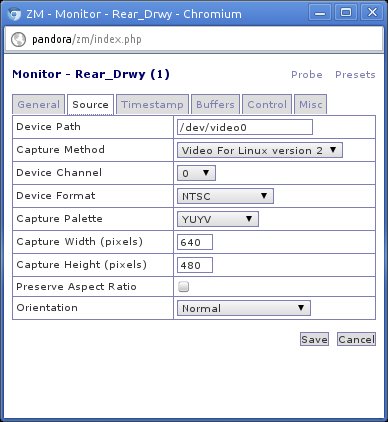 Coffre-fort et armoire forte
armoire forte ignifugée Coffre-fort classe 1
Observations
I currently have zoneminder installed on an Intel Atom 525 with 4 GB of RAM. This same system has the "LinkDelight CCTV H.264 4CH DVR Card" installed on it and monitoring 2 CCTV cameras at around ~20fps each (@ 640x480), with ~30 % Cpu Usage across the 4 "cores".
Mind you, it is also receiving a video stream from an IP camera @ 15 fps (640x480). I haven't enable any motion detection yet.

All-in-all it's a nice, cheap card that works for me.