How to check a camera is working
From ZoneMinder Wiki
Jump to navigation
Jump to search
Go back to the How To pages...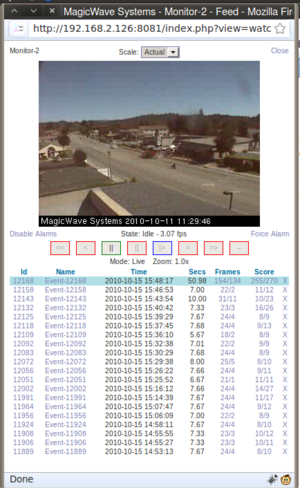 There are several checks you may want to perform on already installed cameras to audit/check their motion detection functionality.
Check the cameras function
The cameras function is listed from the ZoneMinder page, if for some reason you do not see the camera you wish to check, you may be looking at the incorrect camera group, to view all cameras make sure the current group is set to 'all'. For more information on changing/creating camera groups read Create new camera group. If a camera has motion detection enabled you should see a green modect link in the functions column, additional to checking for this link you need to open it up to make sure it is enabled and selected.
Check live stream
For each camera you wish to check open up the cameras watch view you can be sure that you are viewing a live stream if the cameras time-stamp is advancing.
Check event recording
From the watch view you can trigger a false alarm in order to test the event recording. The link to start/stop the alarm is just below the live streaming monitor on the right hand side, it is called "Force Alarm". After starting the alarm, running it for 10-20 seconds and stopping it a new event should appear at the top of the events list, by default it is highlighted blue as shown in this image. You can now open up this event and verify it is working by observing the time advancing or observing the individual frames of the event.